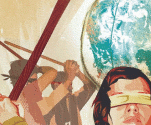 Earth Day's mission is to stimulate and value positive action regarding the environment with individuals, associations and businesses: celebration by action, April 22nd and every day!
2007 campain objectives
Improve citizen knownledge with regards environmental issues;
Sensitize citizens about precautionary actions they can take to positively influence the environment;
Stimulate action, sharing, reflexion and a change in behavior.
Tell us in our sustainable development forum how free software and open source software can play a role.